So cold, you guys. So cold.
Hey, guys!
So, one of the basic tenets of frugal living counts on purchasing everything off-season. I'm currently living in the midst of the polar vortex in Canada, which means although all I want is to buy a bikini and fly to Australia, the cheapest thing I can currently buy is... winter stuff. Which is, coincidentally,
the last thing I want to buy
when it's this cold and I'm tired of winter.
I've never been able to make this whole off-season purchasing work. I've always been too much of a slave to aspirational shopping. And stores know what they're doing! If I went into a store selling like, nautical print spring outfits, I'd probably stock up because it somehow feels like buying that stuff will make spring happen sooner.
Oh, cruise wear season. You can't come soon enough.
Does all of this go backwards for people who live on the other side of the planet, like for instance in aforementioned Australia? Their Christmas is in the summer, so does that mean that all their holiday supplies get prices slashed in the autumn? That their ski gear is most expensive in the middle of the summer? NOTE TO AUSTRALIAN READERS: do the reverse of what I say in the rest of this article. PS do your toilets really run backwards?
Anyway, to be honest, I don't think it would be such an adjustment for me to begin doing off-season shopping. For instance, I never really look forward to summer and spend most of summer wishing it was fall. This is due to my particular combination of easily-burned skin, mosquito-attracting natural pheromones and lack of ability to handle heat means that the only way I can imagine spending any amount of time outdoors in the summer is if I had one of those gazebos covered with mosquito netting to keep out the bugs, done up like a Harry Potter tent with A/C and maybe a pool inside.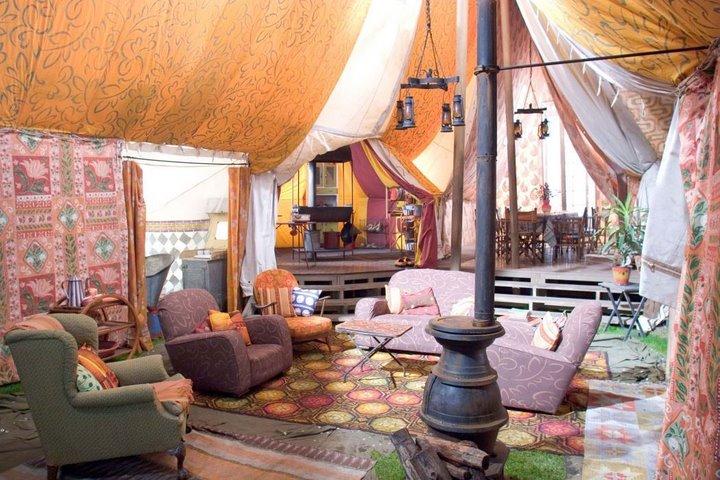 Glamping was basically invented for people like me.
Frankly, it's not that complicated. When you're at the apex of a particular season -- the hottest part of summer, the coldest part of winter, the part of any season where you're just dying for it to end -- that's when the things you need at that moment are cheapest. So I need to not look ahead and buy things for the season I wish it was, but pick up some sale merchandise to make the rest of the current season I'm in more bearable.
That said, I can't imagine myself buying new mittens anytime soon. Spring can't come soon enough!