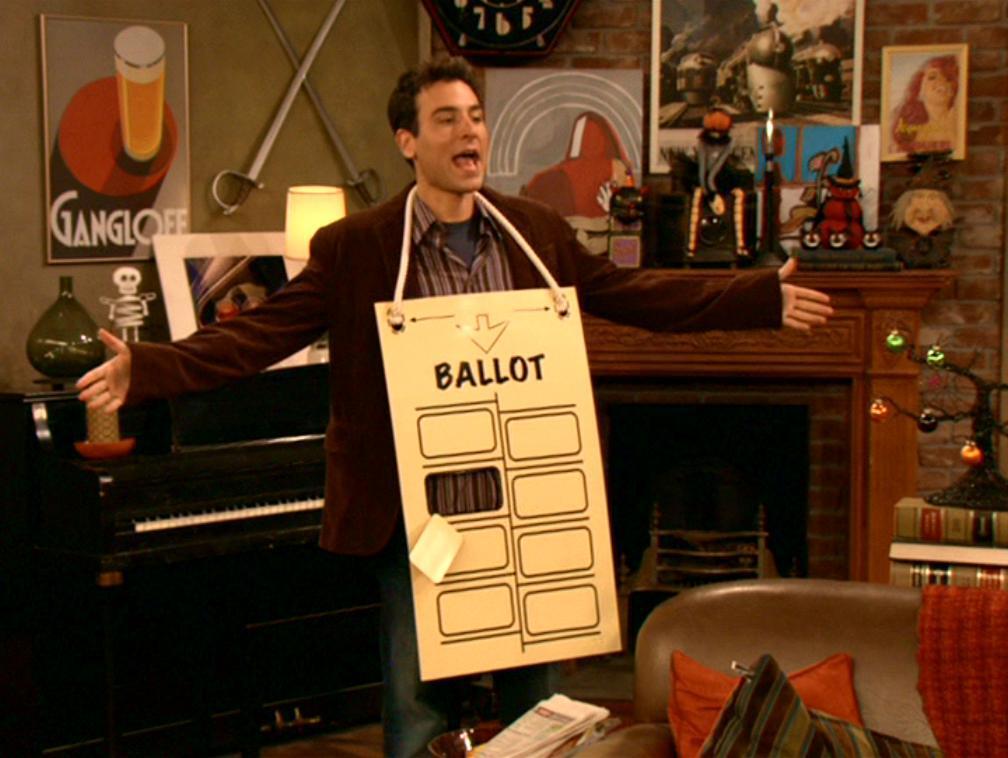 Ted's annual Hanging Chad costume from How I Met Your Mother.
Do you remember the episode of
How I Met Your Mother
where Ted explains why he keeps wearing his "Hanging Chad" costume well after anyone remembers
that whole oddly boring scandal
? It was because he met a girl that night and thinks she won't recognize him if he's not dressed the same.
This is a great example of how so many Halloween costumes are ephemeral, and is one of the main reasons I generally advocate for a
classy, frugal, timeless costume
.
But if that's not your jam, I totally get it. Here are some Halloween costumes I predict we'll be seeing in 2012... and that if you wore them any other time, nobody would remember what it is you're being. Like the girl who comes in a Snooki costume, or as Kate Gosselin in a short-hair wig, you just make yourself look out of touch.
1. Mama June and Honey Boo Boo (couple's costume)
By 2013, I think we'll all be tired of these two. I think we kind of are already, and that's before TLC has enough episodes to do all-day marathons to drive us all insane.
2. Kate Middleton's pixelated chest
Unlike last year's Kate Middleton wedding dress costumes, someone, somewhere, is dressing like her in a nude bodystocking with pixelations over her chest.
3. Fifty Shades of Grey
My friend
Jill
came up with this idea: tape 50 paint samples of grey from the hardware store onto your outfit and show up as literally, 50 shades of grey. Or go the extra mile and come all dressed in red and hobble around like you're hurt, and explain you're being The Red Room Of Pain.
4. Lady Gaga circa October 2012 (long brown hair)
By next year, we'll all have forgotten she was ever rocking a long brown hair look. Even this year, people will be like, "Oh! You're dressed like Selena Gomez! Cute!"
5. Zooey Deschanel Is Adorkable!
If you show up in a 50s/60s style dress, with long hair and bangs, and skip around being quirky: don't bother. This show has progressed well beyond its initial tagline ("Adorkable!") and you'll just look like you don't know what you're talking about.
6. Courtney Stodden and her creepy old man husband
Although, this is a good way to re-use your Heidi and Spencer Pratt costumes from a few years ago. And undoubtedly there will be some other big-breasted blond with a creepy husband you can dress up as next year. Actually, you can wear these same costumes every year and just claim to be someone different as more bizarre people begin to take up space in gossip blogs. (
UPDATE: the brilliant Cyndi suggested that Canadians can use these same costumes to be Maygan Sensenberger and her creepy old Senator husband, too!)
7. Rihanna circa October 2012
Nobody will remember she had this haircut next year. They'll be like, "Oh, you came as Halle Berry!"
Very timely right now - and a perfect costume if you are a younger guy dating an older guy! You can go as Old and Young Joe! However, by next year, it won't be clever anymore. Trust me, I know: I came back from the future to tell you this.
9. Christina Aguilera & Cee-Lo Green, in chairs
This year? It would be brilliant to dress as Xtina or Cee-Lo, grab an office chair at the party, and spend the whole night with your back to everyone like you're a judge on
The Voice
. By 2013, these costumes will be obsolete as
these two won't be on next season
and everyone will be dressing up as Shakira and Usher.
10. An iPhone 5
... because we all know by next year, we'll be up to iPhone 15 or something the way these keep popping out. Nobody will remember that iPhones used to be as big and clunky as the iPhone 5 will seem by 2013.
What do you guys think? Anything I missed?