Have you seen this movie? WHY HAVEN'T YOU SEEN THIS MOVIE YET?
Moonrise Kingdom
is the latest from Wes Anderson, he of
Rushmore
and
The Royal Tenenbaums
and a few others I didn't like quite so much.
This film, friends, is delightful. It's the story of two 12-year-olds who fall in love and run away together, all taking place in a kind of fairytale version of the 1960s. I guess you either luuurve that idea or not, and I know that Wes Anderson is kind of a love/hate sort of guy. But honestly? This movie is so, so good.
LINKY DINKY
Sam (Jared Gilman)
Sam is an enigmatic bad boy wrapped in the body if a goofy looking prepubescent kid. He has the soul of a Beat poet, and the hat of Davy Crockett. And can he pitches a campsite like nobody's business. This kid is awesome, basically. Know who else is awesome? In Mint Condition,
who just paid off all of her credit card debt!!
Suzy (Kara Hayward)
Suzie is a bookworm who always
always
wears turquoisey-blue eyeshadow and perfectly clean white knee socks. She is also as practical as me, bringing along not only a portable record player but also her adorbs kitten to run away in the wilderness (spoiler?). In short, she's amazingly fabulous. Who else is fabulous? The Reluctant Retiree, who reveals that
retirees deal with hot weather like they deal with everything else - awesomely
!
Scout Master Ward (Ed Norton)
Captain Sharp (Bruce Willis)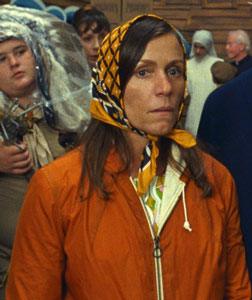 Mrs. Bishop (Frances McDormand)
She's Suzie's Mom, who wrangles a household of Bill Murray husband, moody tweenage daughter and Wes Anderson movie-ish younger boys with style and panache (and a loudspeaker). There's no way she could run this household without coffee, or iced coffee in the summertime, so she'd find
A Fistful of Dollars experiments with frugal iced coffee recipes
most invaluable.