I'm so excited to induct Michelle Obama, FLOTUS (First Lady of the US), to
the Shopping Detox Frugal Icons Hall of Fame
. I think I can say that she definitively has the best arms of anyone on that list (sorry, SMG)
If I had those arms, I'd go sleeveless all the time, too.
I like so much about Michelle Obama. I like that she's so much more than arm candy for her powerful husband, but rather spends her time doing charity and fundraising and looking fabulous all the while. In fact, she kind of reminds of Kate Middleton - it would be easy for a woman in either of their positions to just be vapid and sit around all day getting pedicures while watching
The Real Housewives of Orange County
or whatever, but instead, they are both athletic, compassionate people very involved with numerous charities.
Michelle Obama is so frugal, she...
But what truly makes her a Frugal Icon (besides her arms) is that she combines high-end with low-end outfits, pulling it all together to look just as elegant as Jackie O. (about whom, I am not sure if she was frugal either, but she definitely wouldn't have worn an H&M dress on TV). Michelle Obama proves you don't have to spend lots of money to look great - great enough to hang out with politicians and
royals.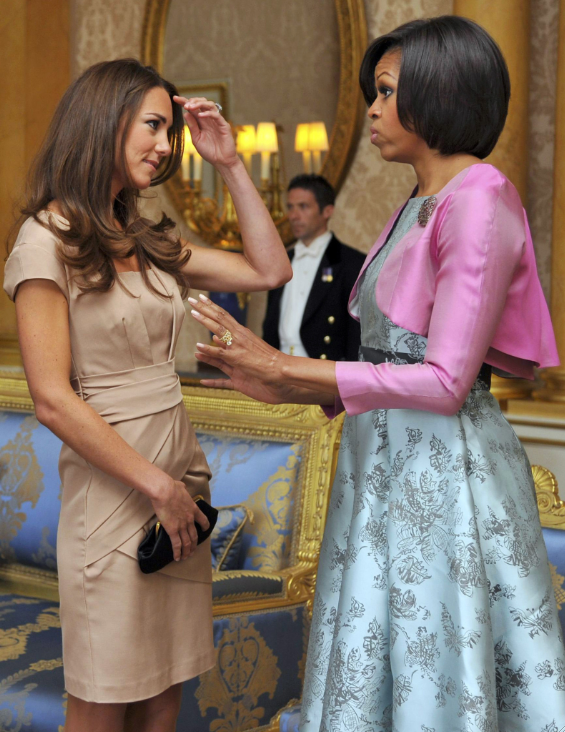 "... so I was like, why buy a new outfit? I'll just wear the same thing again with different accessories!"
"I know, right?!"
I think she and
fellow Frugal Icon
Kate Middleton
could have a great chat about a) working out, b) bargain shopping, c) outfit repeating, and d) making it all look so easy.
Can I just say how great the climate is right now in the world, that women like Michelle Obama are admired for their frugal, sensible style? She's the reason I like to celebrate frugal icons: famous people become even more beloved when you see they're really just like us.
To read more about Michelle Obama's style, check out Mrs.O for a full catalogue of basically everything she's worn, ever.