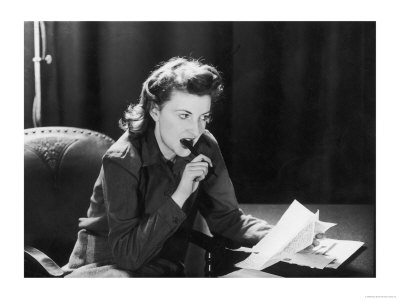 Hmm.. have I learned anything, besides how to find fabulous retro photos online?
So, I've been paying attention to my finances for about a year and a half now, which seems like as good a time as any to see how it's changed things for me.
1) I may still overspend, but
I'm aware that I'm doing it
and I choose to do it. I know that's not what I'm supposed to say, but accepting is the first step towards fixing something, right? I may not always spend my money like I
should,
but at least
I notice when I mess up
.
2)
Packing lunch for work everyday
is not that hard, really. The trick is to make a big batch of something (i.e. soup, or calzones, or even just some carrots and hummus) so there's not a lot to assemble in the morning.
3) I used to max out my credit card, then apply for more credit, then max that out - later, rinse repeat.
I haven't requested a credit limit increase in 2 years
- which is not as good as paying it all off, but better than getting deeper in to debt.
4)
I'm more aware of what I own
. Fun projects like
29 Days of Tights
or
31 Days of Lipstick
, or that time I made myself wear
something new from my closet everyday
have helped familiarize myself with what I own - and that eliminates a lot of temptation to buy new stuff.
5)
I cook and bake
way more frequently than I used to. Cooking has turned into one of my fave stress-busting hobbies, and I'm much more aware of how cheaper real ingredients can be!
How have you guys improved your financial situation? Any tips for me?