I should note that nobody was dressed like this at the farmer's market.
Not even me. Come on, it was 9am. Who has time for pantyhose and pearl necklaces at that ungodly hour?
You guys! I woke up randomly early today and decided to make the most of it. This was for two reasons:
1) Mireille Guiliano suggests in
French Women Don't Get Fat
that French people like to try new things
2) In
Drop Dead Healthy
, AJ Jacobs notes that when you try new stuff, it's healthy for your brain (i.e. brushing your teeth with your left hand once in a while, or that sort of thing)
I've been meaning for ages and ages to get to the Farmer's Market, but it's hard to get there since it begins early and ends early, and when you show up around 1pm many of the vendors are already closed.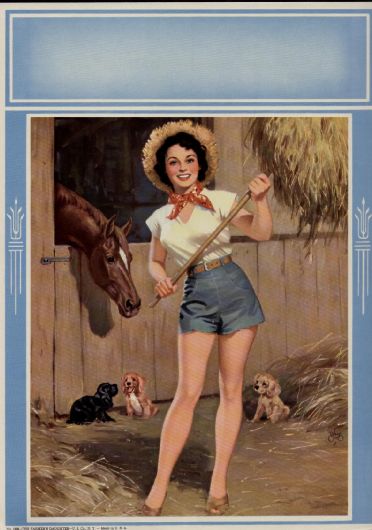 The vendors didn't look like this. I assume the leggy pin-up girl types stay behind at the farm so that their middle-aged hippie-ish parent types can do the actual selling.
But I was out the door by like, 9am! It was unimaginable for a die-hand sleep-in-till-noon-on-weekends person like me. And the market in the morning is a TOTALLY DIFFERENT THING! Way less crowded, and the people selling things like eggs were still there! I was able to get farm-fresh eggs!
Anyway, Farmer's Markets are the best place for food for three very important reasons:
1) supporting local economy
2) cheaper than supermarket produce
3) healthier and tastier food!
I can't say that I'm not a convert. I'd love to be but... sleeping in. Come on. My willpower in the mornings is negligible and while I know that
theoretically
going would be a good thing, staying in bed for 3-4 more hours is more important at the moment.
But I'm looking forward to making delicious food this week using my fresh new stuff! Do you guys go to your local farmer's market? Why don't they open in the afternoons, like, seriously?