How cute is Rachel McAdams? SO CUTE!
How is it possible that there haven't been any Canadians inducted yet into the
Shopping Detox Frugal Icons Hall of Fame
?
I suspect that, much like in most pop culture, Canadians rely on being under-the-radar and unassuming and just wait to be noticed, unlike their American counterparts who leap around boisterously announcing their frugality. (*Note: OK, nobody actually leaps around announcing their frugality, but if anyone did, they'd probably be American)
A bit about Ms. McAdams:
Rachel McAdams lives, when she's not filming a movie, in Toronto. She has frequently been spotted around town...
Biking!
She said in an interview "I don't own a car. In Toronto, my bike is my car."
Waiting to catch the bus!
Walking! (her bike)
(*Note her use of reusable canvas shopping bags - very frugal *and* environmentally friendly!)
-
She's a blogger too!
During her hiatus between movies, she co-founded the website
Green is Sexy
with her BFFs. It's like a Canadian, environmentally-themed version of Zooey Deschanel's
Hello Giggles
site. (Sadly, Rachel and her friends have been busy so it hasn't been updated in awhile. However, there's lots of great posts there to read!)
-
She likes growing her own food!
In her bio on Green is Sexy, Rachel says that her dream is to one day live in a treehouse and grow all her own good. Frugal!
I feel like I should mention that she also has really great hair, an important part of being a Frugal Icon, and the main reason Courtney Love never will be. OK, one of the many, many reasons Courtney Love will never be a frugal icon. Prove me wrong, C-Love!
-
She's a homeowner!
She describes her Toronto house as "Victorian... so it's full of character. Which is a polite way of saying it's fallen apart. No I'm joking. It's from the 1890′s, I think, and it's full of light because I love windows. I also love the combination of modern and vintage, so I have a lot of Victorian stuff and also a sort of Polynesian feel with some touches of Asian art. And natural and earthy furniture with cork floors. So it's sort of schizophrenic, but I love it."
-
She lives with a roommate... her brother!
"We each have our own kitchen and bathroom. It's how married people should live!... But the house is a lemon, so there are endless things to do there. It keeps me on my toes."
Rachel with her brother/roommate, Daniel McAdams.
-
She used to be a vegetarian!
Rachel tried being a vegetarian (an environmentally-friendly, frugal lifestyle) but she's honest and funny about why it didn't work out. "It made me very tired. I just ate pasta -- I was the most unhealthy vegetarian ever! I'd like to try it again now that I know about quinoa and bulgur. I think I'd be better the second time around."
-
She has the best boyfriends ever!
Her hottie ex-boyfriends include the internet's BF Ryan Gosling (who has nothing but complimentary things to say about her) as well as Josh Lucas. She's currently dating actor Michael Sheen. She's been photographed biking around with each of them - so she's clearly influencing the men in her life to become more frugal/environmentally friendly, too!
Rachel shows classy, French-influenced style, biking in a trench with Josh Lucas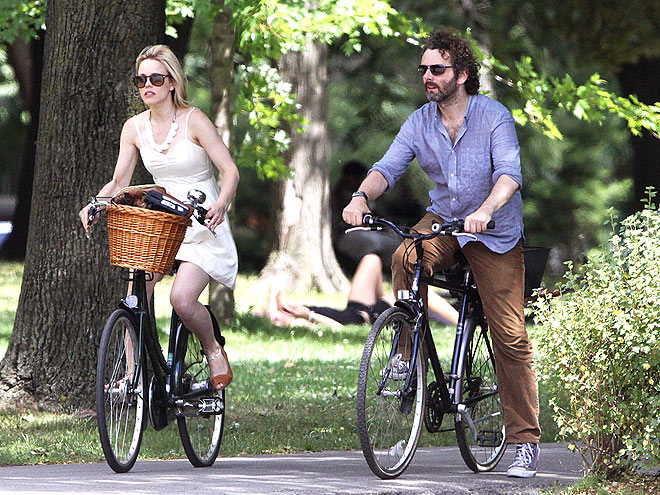 Rachel demonstrates the ideal skirt length/fabric weight for optimal bicycling,
here with Michael Sheen, who could really use a haircut. I hope that 'do is for a role.
So, I couldn't find a photo of her biking with Ryan Gosling, but here they are sharing breakfast together and looking all kinds of adorbs/Canadian/adorbs.
Congrats to Rachel McAdams, the newest inductee to the