- weheartit.com



I have had a long and complicated relationship with microwaves this year.
So far this year, I have gone from thinking about buying a microwave to avoid
cooking my Magic Bag in tinfoil in the oven
, to
considering buying a $39.99 microwave
(but there isn't space for it in my kitchen, so I didn't buy it), so then I
psychoanalyzed the reasons I am so reluctant to buy a microwave
Not coincidentally, when it was colder out, I wanted a microwave to heat up things to warm my body with. And now that I'm working at cooking more of my own food, I want a microwave to heat up leftovers with.
Because, you guys, it's all well and good to make a big thing of pasta and sauce, or a stirfry or whatever. But reheating noodles in a pot tends to leave burned pasta bits on the bottoms of pots. Also, it doesn't heat through very evenly. And also, it takes longer.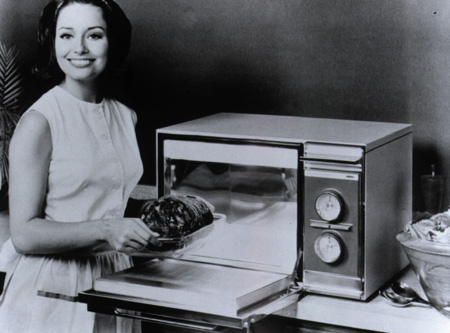 - smecc.org



And look how happy this lady is with her microwave, the size of a fridge!
So I mostly eat leftovers at work (where they have a microwave). But all things considered, I am pretty much not saving money by not having a microwave. In fact, I may be losing money - because I cook stuff, they have leftovers, then don't wind up eating the leftovers, and then throwing them out.
But the fact remains that I don't have anywhere to plug the microwave in. I have one outlet on my counter that I use alternately for the toaster, George Foreman grill, and food processor. I suppose I could add a cheapish microwave to that rotation, and just plug it in when I need it.
OK, Alec Baldwin on 30 Rock. You won me over.
Did I just talk myself into this? Yes, I think I did.
Up next: should I buy a sewing machine? *Note: I will then have to learn to sew.