- weheartit.com



Like a good little black dress, this is financial advice that will never go out of fashion.

And also makes you look super cute, like Brigitte Bardot here.
So, I guess this is a finance blog. Kinda. (*Note: if you think it is, feel free to vote for me in the
Plutus Awards
!!) One shift that has for sure occurred so far this year is that, rather than spending all my time online reading fashion and gossip blogs, I'm spending 30% of the time on those, and the other 70% on finance blogs.
Some of these articles are from months ago, but they're all ones I noted and saved and refer to sometimes to remind myself about the BASIC financial tips that I keep forgetting (i.e. keep a budget, stop buying things you already own).
Sooo, here's some classic financial advice that everybody can use!
- misswallflower.tumblr.com



A good little black dress can take you from day to night, like this financial advice!

I mean, this is advice you can use grocery shopping or for a night on the town.
Very excitingly, Niki from
Debt Free by 30
is, yes, debt free!! I'm 99% happy for her and 1% jealous. But really, she was super-dedicated to this project and is an inspiration to us all. I think she should celebrate by buying something really silly and expensive, like $25 nailpolish. Or feather hair extensions. Anyway, Niki wrote this really sweet post about how various
finance bloggers are like a little online family
(and I get to be the stylish sister!)
And did you guys see this
sweet interview I did with Tasmanian Minimalist
? I really do aspire to being minimalist...ish. Her blog is also a great resource for really yummy-looking recipes (I'm dying to try her recipe for
florentines
)
- weheartit.com



Like a good LBD, this is financial advice which people have been using for years and years.

Sometimes your grandparents' advice (and dresses) are still suitable for modern occasions.
3 easy financial resolutions every Gen Y should follow
from Young & Thrifty. I'm somewhere on the cusp between Gen X and Gen Y, but this is good advice for everybody!
16 ways to go green without going broke
from Green Manolo
Getting our of credit card debt yourself
from Life and my Finances
- quietbeats.tumblr.com



Y'all knew I couldn't do this theme without some images of Audrey Hepburn, right?
Opening the shopping floodgates
from my BFF, Gail Vaz-Oxlade. It's all about how once you start buying, it's so easy to keep buying. This is why I cannot let myself slip at all EVER! (OK, only every now and then)
Understanding need vs. want
from Enemy of Debt
Simplify your life: eating and cooking routines
from Fabulously Broke in the City. Ways to save time AND money AND eat even better food!
Being frugal - 10 signs you've taken it too far
from Little House in the Valley. It's always good to stay vigilant and make sure we aren't becoming smelly weirdos.
5 simple switches to lower your grocery bill
from Living Well on Less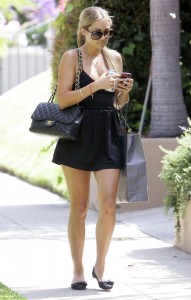 Frugal icon Lauren Conrad shows that you can wear a little black dress in a casual way, too.
Wait, that has nothing to do with finance. Whatever. She looks cute.
Aaaand I was happy to be included by Frugal Confessions in the
Yakezie Carnival
this week!