- laurenoutloud.com



Shiloh Jolie-Pitt and Suri Cruise model the latest back-to-school fashions.




All right, you guys. I have already mentioned that I'm
smitten with fall fashion
. I already
accidentally bought a pinafore dress on eBay
after - no lie - doing some online window-shopping at British school uniform websites.
How can you get that cuter-than-cute preppy back-to-school look without breaking the bank?
Shopping the closet: Back-to-school style
Diane Keaton in Annie Hall
demonstrates an androgynous, yet adorable, take on layering.
I've been watching a lot of
What Not to Wear
lately, and so much of it baffles me. You know the bit where Stacy and Clinton go through their guest's wardrobe, and throw out what's gross and keep what's cute? With this one woman, they were like, "This top looks cute with this skirt," and the guest was like, "But... I didn't buy those to go together. That skirt goes with that other blouse."
Like, what the hell? The whole point of SHOPPING is that you get lots of really versatile stuff that you can combine in various different ways. I'm going to just ASSUME you guys all know that if you own a white button-down shirt, that you can wear it with a VARIETY of different things such as jeans, black pants, plaid pants, a skirt, shorts, anything. Right? OK. Now I'm going to blow your mind.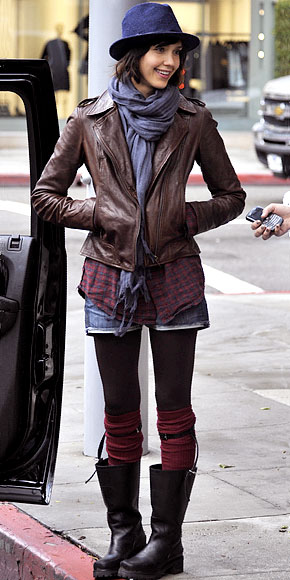 Jessica Alba demonstrates varsity-level layering. Don't worry, I'm not here to advocate for jean cutoffs over leggings. (...although I wear that look myself quasi-frequently)
Everything you need for fabulous fall fashion is ALREADY IN YOUR CLOSET. (Hopefully). The secret is: layering. This is nothing to be afraid of. You don't need any special know-how or any special clothes to do layering. If you've ever worn a jacket on top of a shirt and pants, you're already an expert! Here are some simple, frugal (i.e. free) ways to layer your way to fabulous fall fashion.
Tshirt layered on top of button-down shirt
This is a really cute look. The key here is that the inside shirt has to have LONGER SLEEVES and a LONGER BODY than the outside shirt. I do this lots, because I have a long torso and many cute t-shirts wind up being like belly shirts on me. But they're cute, and I want to wear them.
You can pop the collar out, or keep tucked in. Both are cute! Just make sure the inside (button-down) shirt is not really baggy or anything.
LOVE THIS LOOK! You can also do this to dress down a fancier cocktail-esque dress. As long as the dress isn't shiny, just put on a tight-fitting tshirt inside and you're good to go. See how this model adds tights and flat shoes and suddenly a cocktail dress is casual and hipster cute? It's just that easy!
This look is great for when weather is changeable. Like, if you have a shirt inside of a sundress and it gets hot, you don't have a layer to remove (without ducking into a nearby washroom). But if you're wearing a sundress with a cardigan or button-down shirt on top, you can easily remove it to cool off. And tights look great with a sundress especially if...
... you add boots! Sundress with a cardigan, tights and boots is TOTALLY CUTE! And it means you can wear that dress (it's no longer a sundress, I think, as soon as you add boots and/or tights) basically year-round!
I don't know what the rule is here (What Not to Wear is all about RULES) but it's something like - if your outfit is 85% fall/winter wear, it's OK for the other 15% to be summery. I don't know.
(Note: I don't know where this fascination for back-to-school fashion came from. When I was an actual schoolgirl, I would have HAAAATED these outfits. That is because I dressed like this:
I was Blossom.
Spiritually. Also, hat-itually.