So, you guys, I have an overdraft on my banking account. When I first started shopping detox, one of my plans was to eventually wean myself off of the overdraft. It's just that... I kind of count on that money. So... I haven't exactly gotten rid of it yet. Or stopped using it. Um. OK, here we go:
A history of me and overdrafts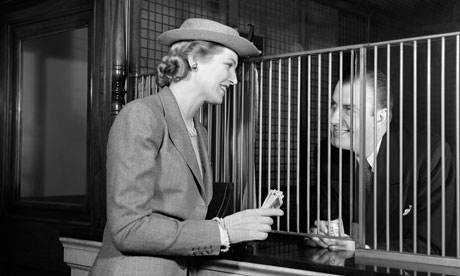 "Hello, good sir. I am here to deposit my money in a respectable manner."
1) The bank account I had in my late teens/early 20s gave me an overdraft without me even realizing it. I remember buying some tights one day, thinking "My card will probably be declined. OH WELL! Tights are cute LALALALA" and then it wasn't declined, and I was surprised. And even more surprised when I saw that my bank balance was a negative amount.
2) So, then, realizing that I suddenly had $200 FREE MONEY (*note: I realize now that's not what an overdraft is) I happily spent it all. All the time. Routinely. FREE MONEY!
3) When I made my first baby steps toward financial sanity three years ago, I set up a new bank account WITHOUT OVERDRAFT. Hahaha, I thought. I have outsmarted my brain.
4) ... slightly panicky about not having exactly enough money for rent, I apply for, and receive, a $100 overdraft. BUT THAT'S IT, I tell myself.
5) ... I apply for another $100 overdraft.
6) ... which I somehow routinely use like money.
"Thanks for the free money! Do you like my hat?"
So, I need to get rid of this overdraft. My instinct is to just wait until next payday, and get the bank to remove it. But, I consulted my erstwhile Frugal Advisor who suggested that I should wait until I have some more money saved up in my checking account, like a buffer against rent checks bouncing, etc.
I don't know. Do I just get rid of it, remove the temptation, and live like someone with $200 less? Or do I save up a little buffer and *then* get rid of the overdraft? Or do I just attempt to develop self-control and stop using the overdraft using will power?