So, today at work, I was looking at some personal finance books. I don't remember the titles exactly, but they were along the lines of:
Stop Spending So Much Money, You Idiot!
You're In Debt Because You're An Idiot, Idiot!
SAVE FOR RETIREMENT, YOU TOTAL MORON OH MY GOD WHAT IS WRONG WITH YOU?
And so I started wondering, why are so many money experts so mean? Why are the most popular money experts the ones who yell at us like we're misbehaving children? Do we spend money, knowing deep down inside that we shouldn't? Do we crave punishment?
Why am I suddenly writing like Carrie Bradshaw?
Where did this feathery sweater come from?
I was debating this over supper tonight with my erstwhile
Frugal Companion
. I think that it's something to do with how our society glamorizes gluttony - how many magazine articles or ads are there that are like, "Come on, buy our product! Indulge yourself! You deserve it!" But on some subconscious level, we feel guilty about spending money - that's why the ads always tell us to "indulge". And so, we actively seek out someone who will make us feel bad about spending money, and that keeps us in check.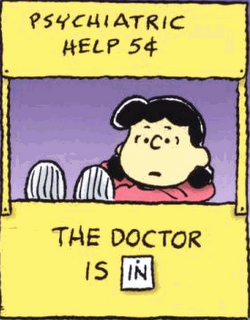 Thank you. Everything I know about psychiatry, I learned from "Peanuts" cartoons.
Anyway, my companion's opinion was much less psychological. He thinks that A) part of these angry money expert's appeal is that they have TV shows where they yell at stupid people, and we like watching stupid people being yelled at. B) A soft-spoken money expert who was being like, "Um... excuse me? You may want to try and spend your money more wisely. Or not. I don't know. Never mind." wouldn't get through to people as well as someone yelling, "OH MY GOD STOP SPENDING MONEY YOU IDIOT!!"
So the angry techniques are both dramatically compelling, as well as the best way to get through to people who are making mistakes.
Suze Orman is a good example of this phenomenon.
She's like an angrier Gail Vaz-Oxlade for Americans.
I don't know. I think that a really nice, sweet money expert would probably not be as effective, although they would certainly stand out in the current landscape. I guess it's like how on Supernanny, Nanny Jo is very strict to undisciplined kids, and they always wind up so much happier with the structure than with their ineffective parents.
And I guess angry money experts are acting kind of like disappointed parents, to impose structure on all of our lives to make us happier.
What do you guys think? Do we crave disapproval because we already feel guilty about spending money? Or are our money problems so deeply ingrained that the only way to get through is by yelling?
*** IMPORTANT NOTE: I'm not at all talking about Mama Gail in this post!
Gail V-O is my homegirl
and she only yells when she needs to! She was so sweet to me when I had tonsillitis and she is my imaginary BFF!! Call me, Gail! xoxo *****