Canada Day hooray!
To anybody reading this not from Canada, this is the one time of year when you get to be jealous of us and wish you lived here. OK, not really. You get to enjoy the
Days of our Lives Horton Family July 4th Barbecue
, and that's fun too.
Happy 4th of July, DOOL!
But how to celebrate Canada, the most frugal nation in the world and my home and native land, in the most frugal manner possible? With a frugal PARTY of course!
1) Illegally download music by Shania Twain and/or Bryan Adams to play in the background.
Not only are these musicians dripping with Canadiana, but in Canada it's not actually illegal to download stuff for free! Kinda. The legislation is confusing. I think as long as you aren't the one who put the item on the internet in the first place, you can download whatever you want. True north strong and free, indeed!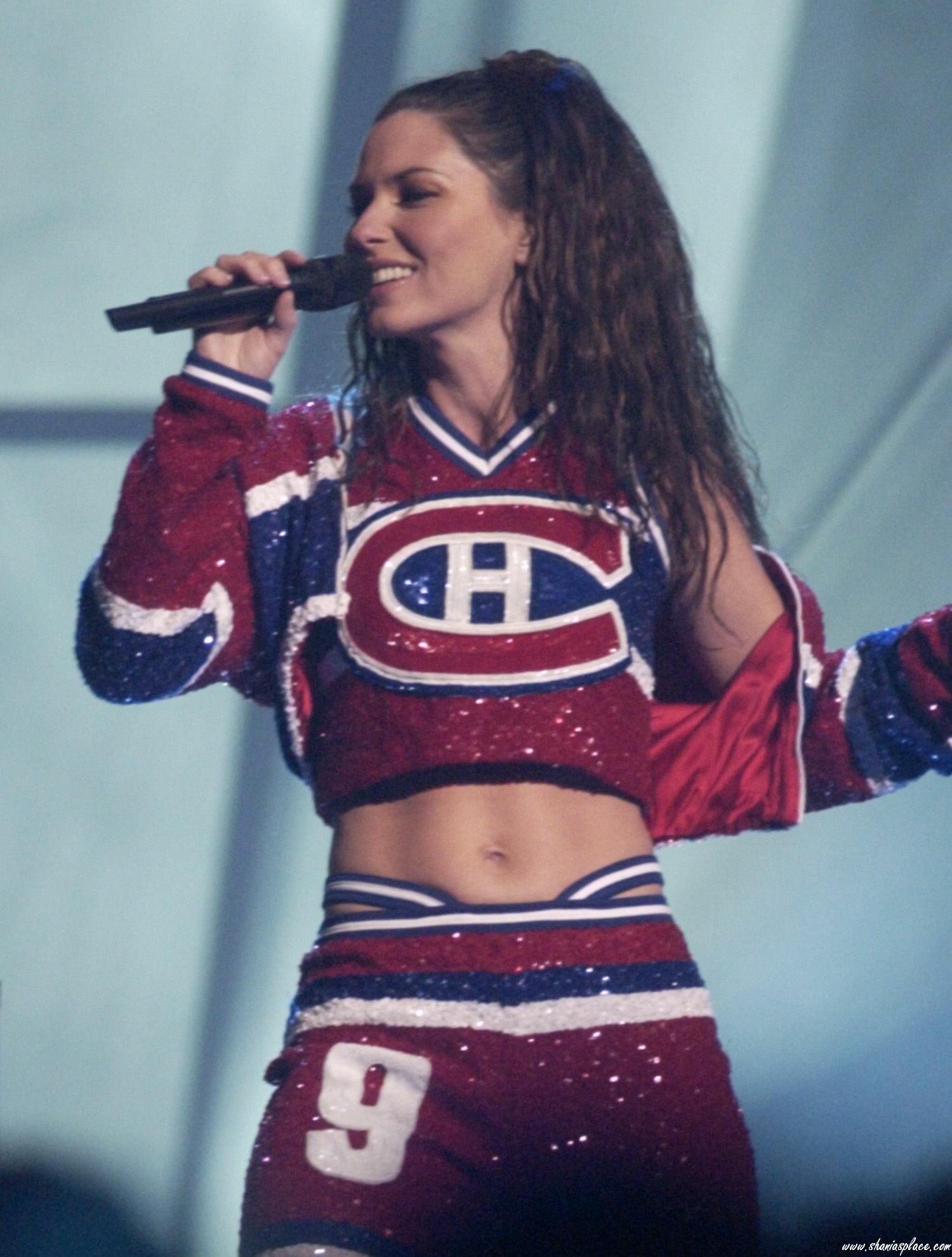 Oh, Shania. Did you really add a fake thong to your sequinned hockey outfit?
And yet, I love her. She's just so cheerful.
2) Illegally download and/or library borrow the movie
Last Night
. (Because
Canadian Netflix doesn't have a very good selection
, but Americans can get it from there if they want!)
This movie came out the same time that
ARMAGEDDON
came out in the US, and both are about the end of the world. Key difference? Frugality. ARMAGEDDON is a huge, big-budget thing about people fighting to stay alive. Last Night is a low-budget movie about people who have accepted their fate, and are hanging out and being as chill about it as possible.
You'll just have to trust me that when Sandra Oh and Don McKellar hold guns to each others heads in this movie,
it's kind of the most romantic thing of all time.
3) Eat Canadian snacks such as: Smarties, Caramilk bars, Ketchup chips, and other stuff from this
sad, sad list of candy that the US doesn't have
. To be super-Canadian about it, you should buy your candy from the SuperStore using your PC points so that the food is free.
...I don't suggest you celebrate with a Caramilk cooler. Canada is not proud of this invention.
4) Wear something red-and-white. This is way more frugal than US 4th of July outfits, as it's one less colour to worry about! So if, for instance, you were doing patriotic fingernails, in Canada you only need red and white. In the US, you would need to also buy a blue nail polish.
Lauren Conrad is doing something really cute
with her nails for July 4th.
If you get rid of the blue nail, this is a great Canada Day manicure!
5) Enjoy a firepit in a friend's backyard! You fancy non-Canadians with your "store bought" "barbeques" don't know what you're missing. CASE STUDY:
My friend Jenny's firepit is made out of the inside of an unused washing machine,
surrounded by pretty bricks!
So, again, purchase some gooey treats using your PC points from SuperStore to get free marshmallows and other fixins for s'mores (alternately, be super-frugal and make your own marshmallows and make your own graham crackers). And then hot dogs! And yummy treats!
6) Wills and Kate are visiting Canada! So if you live anywhere they're going to be, then take a frugal day and go ogle at them. Did you see
on their itinerary
that they have one day off in an undisclosed location to hang out together? Yeah, that's when they're coming to hang out with me. Don't tell anyone! They heard about my legendary frugality and had to meet me.
Can't wait to hang out with you guys! I've got the ketchup chips and Caramilk coolers all ready!
And that is all you need for a super fantastic frugal 100% Canadian Canada Day! (*plus a cute red-and-white outfit which, again, is more frugal than a red-white-and-blue outfit)
Party like you're Margaret Trudeau (she's like the Canadian Jackie Oh, but a lot more scandalous!
She dated Mick Jagger, you guys!)