If only the sale had been held by Xtina and Cher's burlesque club...
Remember a few days ago I went to a
yard sale fundraiser put on by the local burlesque society
?
I made myself a forced budget of $40 (easy to do, as it was cash-only and that's how much I got from the bank machine.) I also had a mental shopping list of what I would like to get:
1. A
Fascinator
Until recently, this fascinator was Princess Beatrice's most memorable head suit
2. A long-sleeve maxi dress*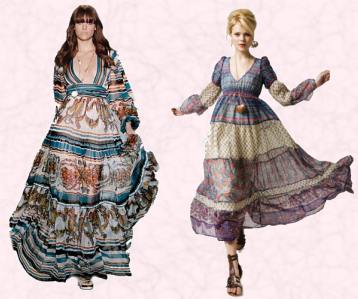 This dress does not exist in the world, apparently.
*I have been actively hunting a dress of this sort ever since I was 15 and saw one in a vintage dress store but was broke that day. My parents would not loan me the money. The dress was sold to someone else. And ever since, NOBODY HAS EVER MADE A DRESS LIKE THIS AGAIN. Someday I will find one. Someday...
3. Brooches*
Joan Holloway has brought both sexy and brooches back, I think.
*According to
The Beauty Department
, Lauren Conrad scours flea markets for vintage brooches, which she turns into hair accessories.
This event turned out to be a very tangible example of the
Theory of Relative Cuteness
(I'll wait while you read that over). There were racks and racks of adorable vintage-esque dresses, many of which would probably have fit me, but they were largely made entirely of polyester. Like, the kind of 1960s-1970s polyester that feels so artificial that it's like wearing plastic. So, I probably wouldn't actually want to wear these things, despite their cuteness.
If I was casting a theatrical version of The Virgin Suicides, there were a number of excellent wardrobe options.
I was momentarily stymied by a cute turquoise mod shift dress. It was definitely cute, and probably my size. But was it really cute?
Was it really?
Or was it just that it was surrounded by other things that were kind of gross? I could buy it and dye it black or navy blue, I rationalized. Unsure what to do, I double-checked with my friends, who unanimously agreed that it wasn't actually that cute.
There was a pair of really cute ankle boots that I spotted, but which were gone when I went back to pick them up (dammit, need to work on my yard sale shopping skills). And I really wanted to support the burlesque ladies, so I looked around closely and got:
1. A bracelet, earrings and big Jackie O sunglasses ($5 total for all three items)
2. A paper fan and two brooches (yay!) ($1 total for all three items)
I think getting a paper fan from a burlesque yard sale is kind of wonderful.
3. A newsboy cap for $3 (this was a mistake purchase, as I foolishly didn't try it on until I got home, and sure enough, it doesn't fit on my gigantic skull)
Cute though, right? Maybe I can somehow shrink my head...
So, $9 spent altogether. Way under budget = yay!
I am particularly happy about the paper fan, which I think will be handy this summer in my apartment, which behaves somewhat like a greenhouse when it's sunny outside.
And did you really think I could write this entry without linking to Xtina killing it in the movie "Burlesque"? Um, have you met me?