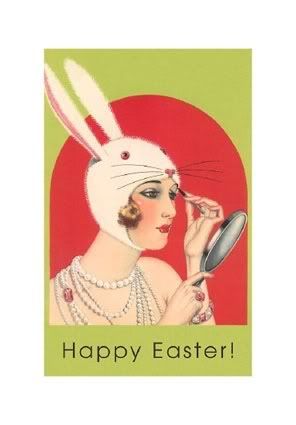 It's Easter weekend! When I was growing up, Easter meant a few things:
Waking up to a note, in rhyme, and a mug filled with jellybeans. This note would give a clue for where to find the next note. The notes would take me around the house to the places that I go the most (i.e. the computer, the sofa, etc.) where I would gather more jellybeans.
With all jellybeans in hand, the final clue would lead me to the kitchen, where there would be a Kinder Surprise Egg and sometimes a Cadbury Cream Egg and often a Reese's Peanut Butter Egg. And a present.
* I remember one year the final clue rhymed "eggs" with "doll with suntanned legs" and I got California Dream Midge! (
Barbie's redheaded friend
)

Redheaded dolls have more fun, FYI
So, with that in mind, I provide for everyone the following frugal Easter ideas:
1) Re-use candy-holding things. For instance, the mug that the jellybeans were in was always the same each year (white with yellow chicks on it). You can also use little wicker baskets or whatnot.
Extra-frugal option: weave a basket out of dryer lint.
2) Rather than purchasing candy, you can always make cookies using ingredients that you already own (assuming you own sugar, flour and that sort of thing.)
Extra-frugal option: craft re-usable and un-edible faux-candies using dryer lint.
3) Leave rhyming clues for your loved ones, leading them on a hunt around your house.
Extra-frugal option: recite the clues out loud, rather than using paper or ink. This may ruin the elemnent of surprise re: existence of Easter Bunny.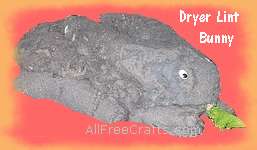 This is an actual craft idea. Seriously. So frugal! So creepy!

For other ideas, check out the following links:
Frugal Easter Basket Ideas
from The Simple Mom
How to make "Thriller" chicks
from Myrtle & Eunice
Homemade Easter egg dye
from A Handmade Life
Happy long weekend everybody!