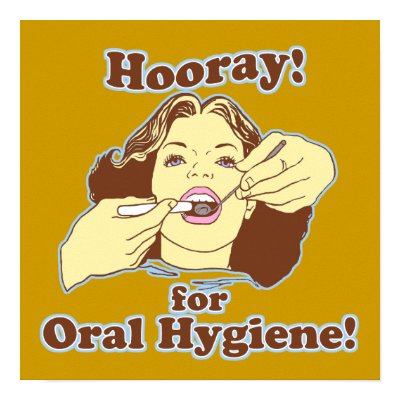 So, I have a really great dentist's office. They are very intent on making sure I visit them every 6 months, and very friendly and helpful. The one time I had a proto-cavity (my first EVER!!) they were very nice and kept saying it wasn't really a cavity, just something that may one day turn into one, which is why they needed to give me a filling.
Anyway. So, my insurance covers most of the cost of the visit (70%) which makes is quite affordable. Not having had dental insturance before this job, that is a real treat. AND I also always get a free toothbrush and floss (free stuff is always frugal).
Actually, yesterday when I had my appointment, I was on my way out and thinking "Oh noes! They have forgotten to give me a toothbrush!" And I thought about how I would have to muster my courage, overcome my innate Canadian politeness, and ask for a toothbrush. Luckily, though, they handed me a brush and floss on my way out.
And I assume dentists give you free toothbrushes to help everyone be able to take good care of your teeth. And that is wonderful. I wish everywhere you went you got free stuff. Visiting the doctor -- get a free thing of healthy vegetables. Visit the bank -- get $20 free. Visit the gym -- get a free set of weights to take home.
So anyway. While I dislike many things about going to the dentist (namely: fluoride trays and how all of the tools are too big for my mouth), the free toothbrush and the friendly people make it all worthwhile.